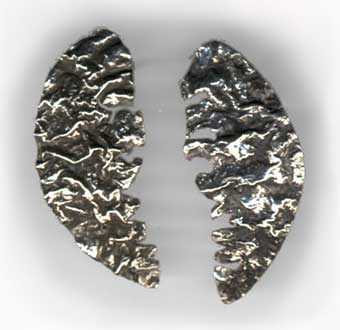 Wimble Custom Jewelry produces fine jewelry for both every day wear and for the collector.

The Wing, Wind and Water Series is designed to recall autumn in California. The earring has an overall shape of the wing of a migrating bird. Within the wing shape can be seen wind-driven ripples on a pond or lake - a stopover during the migration.

The silver reticulated pattern is random, driven by the artistry of the jeweler, produced by inducing stress in the alloy as it is heated and cooled. No two earrings are identical in the reticulation patterns that result during the fabrication process.

Specifications:

Earrings: $40.00 per pair.
0.75" to 1.5" in length, typical. Earrings shown above are about 1.15" in length.
18 guage (1.0 MM.) silver alloy (80% silver, 20% copper). Reticulated pattern. Outer surfaces are depletion guilded, leaving nearly pure silver on the surface.
Sterling silver posts. Surgical steel is available on request.